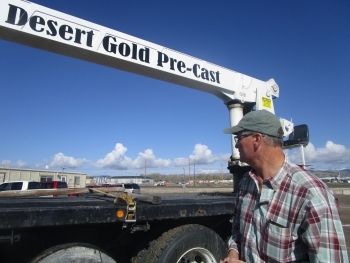 Recently Under New Ownership
Desert Gold Precast has been meeting Northern Nevada's precast concrete needs since 1998.

The owner and staff at Desert Gold Precast, are working to improve current products, plus find new product solutions that will supply our clients with the best line of precast concrete materials in a timely manner, all while upholding our high quality standards.

We specialize in septic tanks for home owners as well as contractors. We also carry products fundamental to the mining and general construction industries, such as grease traps, gravity blocks, distribution boxes, risers, k-rail barriers, and transformer pads.
Superior Concrete Products
At Desert Gold Precast our mission is to offer innovative applications for our quality precast products throughout Northern Nevada.


Right - Septic tanks are our specialty!

We want your stinking business!

View our Products
Over 20 Years in the business of making concrete
With the recent adoption of Desert Gold Precast, Modern Concrete will be providing the best concrete in Elko for the crafting of your project.

Modern Concrete has been in the business of making superior concrete and concrete products for 20+ years.

You'll always get the most cost-effective and best quality precast concrete solution.


Get your project started and
contact us today!